ExTe Bunks
5 Bundle Doepker Hayrack at Peterbilt in Dawson Creek, BC
ExTe Timber Bunks
We sell ExTe bunks for your timber hauling needs. Specifically designed for the B.C. and Alberta markets, they feature all steel, modular, light-weight construction rated 12 tons capacity per bunk assembly.
Folding stakes feature and ExTe Patented CAM design for easy lowering of the extension. When folded, they do not require chains or cables to hold into transport position. Bunks are band clamped to the trailer frame allowing for various rail widths and eliminates bunk mount weld cracking and failure as experienced by other methods.
The datasheets for each one are listed below and can be viewed in PDF format by clicking the corresponding link.
ExTe Features:
Engineered with Swedish Steel for long life and Maximum Payload
Bunk widths 8'6' thru 10'6" & Extendable
ExTe Patented over centre folding design does not require chains or cables to retain extension in transport position
Lubricated hinge pin on folding extension
Bolted bunk Band Clamps allow any frame rail width with easy bunk repositioning for all log lengths
Factory Powder Coated paint
ES12 9'6" bunk & 1 piece Steel stakes = 466 Lbs per assembly
ES12 9'6" bunk & folding Steel stakes = 536 Lbs per assembly single Clamping Attachments
Stake is separate from bunk with wedge lock solid into pocket = economical replacement due to loader damage or in the event of a wreck
PROLENC Bunk risers available in any height to match various trailer styles
Assemblies and spares stocked in Prince George for fast delivery & Product Support
TU Tensioners - An air winch design for constant tension of the holding strap and auto-winding when the strap is released from the load. Plumbed to the truck air system.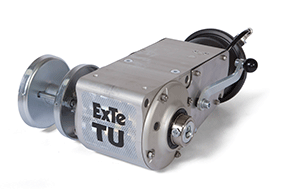 Contact us for more information, pricing and availability!